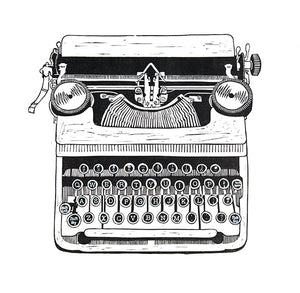 This original typewriter linocut and screen print has been designed, carved, hand burnished and the hand rendered lettering screen printed by the artist.
Printed on 250gsm Somerset Velvet acid free printmaking paper, this paper has a deckled edge making it perfect for float mounting.
With consideration towards the environment, Caligo safewash and a waterbased screen printing ink have been used to minimise the use of chemicals in the printmaking process.
The paper size measures 28 x 28.5 cm
This print is from a Limited Edition of 30 prints and have all been signed and numbered by the artist.
Due to the handmade nature of the printing process every print has slight variations making each unique.
This print is available to purchase either framed in a black stained wooden frame with a double layer of float mount to compliment the print or unframed.