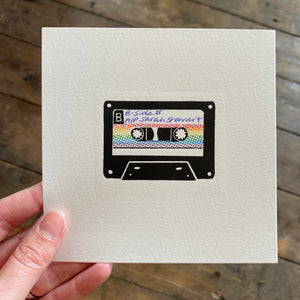 "B-Side II" is a linocut and silkscreen print, cut intuitively with very little planning, rather 'drawing' with the gouges.
Printed on 250gsm Somerset Satin, an acid-free printmaking paper.
This print contains one layer of linocut and six layers of screenprint.
This cassette has been printed with Caligo Safewash ink and water based screenprinting ink. These inks have helped me to keep the printing process as chemical free and environmentally friendly as possible.
The paper size measures 12.5 x 12.5 cm which is the perfect size for posting as a gift.
This print is part of a Limited Edition of 30 prints.

It has been signed unconventionally in biro on the cassette 'label' rather than in pencil underneath.

Due to the handmade nature of the printing process every print has slight variations making each unique.